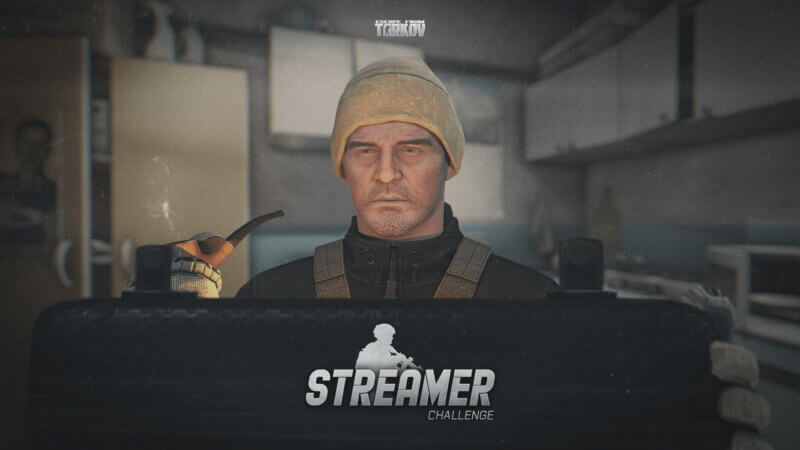 The current streamer challenge in Escape from Tarkov is causing a lot of discussion among streamers as well as viewers and normal players of the game.
Has developer Battlestate Games acted too short-sightedly here and actually just pulled streamers in front of their own cart with a little treat for their own reach?
What is the Escape from Tarkov Streamer Challenge?
The so-called streamer challenge is currently running in Escape from Tarkov. Streamers can apply to take part in this challenge and then have to complete tasks for 9 consecutive days.
These tasks include eliminating bosses and scavs and finding items on a specific map each day.
Points are awarded for each action, which are evaluated at the end of the day.
The streamer with the most points wins the challenge and will receive their own streamer item in the game.
The participating streamers will receive an account for the campaign, which has all skills trained to the maximum, all traders unlocked at the maximum level and 25 million roubles, 25,000 euros and 25,000 USD in in-game currency.
Use of the flea market is not permitted.
The campaign takes place on the official servers.
The prize is your own streamer item in the game, which virtually immortalizes the streamer in the game and has so far only been awarded to content creators and streamers who create a lot of content around the game.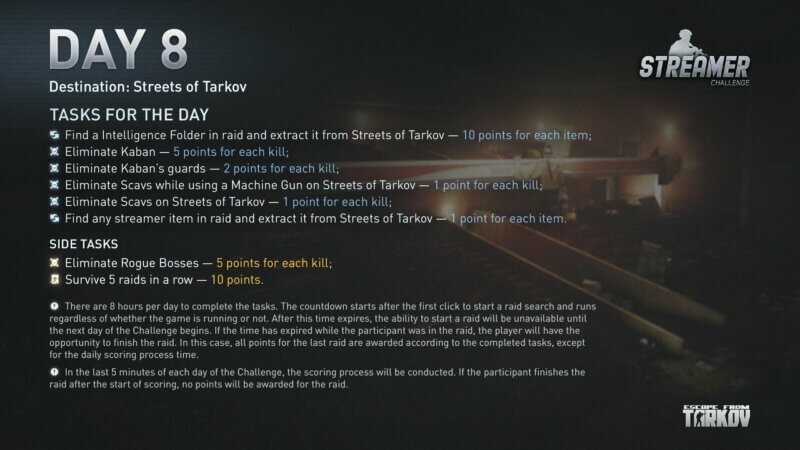 The points of criticism about the event
Ever since the Challenge was announced and the framework conditions were made public, critical feedback has been piling up, both from players and spectators as well as from the participating players themselves.
Vague set of rules
Some of the rules for the challenge appear to be difficult or even impossible to understand correctly and also go against the purpose of an interactive stream.
For example, participants are not allowed to receive any help from third parties. This seems to apply to all interactions in the game (getting items or scav players who can be killed without resistance) as well as to help in the stream chat of the streamers.
So if a viewer points out a mistake or gives a tip in the chat, the streamer may not interact with it but must delete the message.
Another rule relates to the use of the Escape from Tarkov wiki. It was temporarily not allowed to use it before the developers changed their minds.
Both rules are not reasonably comprehensible and enforceable and restrict streamers from interacting with their viewers.
Region change and public servers
The entire event will take place on the normal, official servers of Escape from Tarkov. In addition to glitches and the so-called "stream snipers" (players who try to get into a round with streamers and hunt them down), this also favors switching to other server regions.
According to some tests, the most points are earned by those who avoid as many PvP battles as possible, kill the most scavs and bosses and loot a lot.
This tempts many streamers to switch to servers where there are fewer players active during their stream time than on their main server.
Players who don't follow these practices hardly stand a chance and criticize that the developers don't seem to care.
Too large of a time window to play
As soon as a streamer starts playing on a given day, he has 8 hours to collect points for the day. This time runs continuously and cannot be divided up.
So if you want to remain reasonably competitive, you have to play through an 8-hour slot every day on the same map.
Many streamers already stated in the first days of the challenge that the time span was not feasible for them and excludes many streamers who also have other commitments.
Tasks exclude PvP
Another point of criticism from the community is that all tasks relate to loot, scavs and bosses – i.e. PvE activities. However, there are no points for any PvP activities.
The conflict with other players is the linchpin of Escape from Tarkov, which is what makes the game so exciting in the first place.
However, the current status of the daily tasks almost forces players to avoid other players and run away from battles.
This also makes the event less interesting for spectators.
Consequences for the Event
The whole catalog of criticism and opaque regulations led to many participants not even starting to play for the Challenge or throwing in the towel after a short time.
According to Battlestate Games' own statements, over 1400 streamers were registered for the event, of which only around 80% even started.
On day 3, only just over 50% of the participants were still taking part and on day 7 only a third of the participants were still active.
Day 1 – 1155 active participants
Day 2 – 966 active participants
Day 3 – 735 active participants
Day 4 – 616 active participants
Day 5 – 529 active participants
Day 6 – 444 active participants
Day 7 – 404 active participants
(Figures taken from the official scoreboard based on participants who have earned points)
Of course, the event will still have been worthwhile as a PR campaign for developer Battlestate Games. From the streamer and player side, the view is probably somewhat different.
It remains questionable whether such a campaign will even take place again – and if so, how many players will still be willing to take part.
In retrospect, many of the criticisms and weak points of the challenge could have been avoided with a little better planning.
It is therefore to be hoped that the developers have learned from this.
So far, Battlestate Games has not commented on the criticism in any way, a possible statement could be made next Tuesday as part of a new edition of the TarkovTV livestream.
What is your opinion – what do you think of the Escape from Tarkov Streamer Challenge?
Is it even interesting for you to watch such an event, or do you lack the incentive?
Let us know!
You are currently viewing a placeholder content from Facebook. To access the actual content, click the button below. Please note that doing so will share data with third-party providers.
More Information
You are currently viewing a placeholder content from Instagram. To access the actual content, click the button below. Please note that doing so will share data with third-party providers.
More Information
You are currently viewing a placeholder content from X. To access the actual content, click the button below. Please note that doing so will share data with third-party providers.
More Information