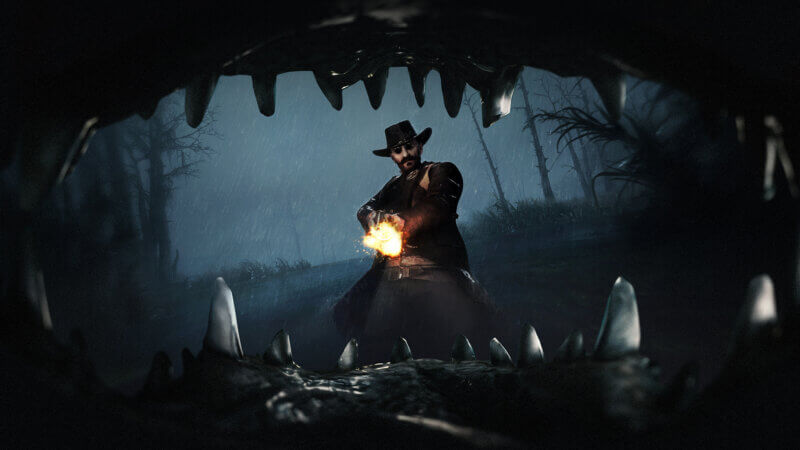 One topic that Crytek has repeatedly addressed and teased was missed by players of Hunt: Showdown in the recent developer livestream: the new boss!
Now the developers have released a video that both clarifies the nature of the creature once and for all and indicates when we will be able to encounter it in the game.
Rotjaw – the roaming alligator boss
The name of the next boss in Hunt: Showdown is Rotjaw. This will be a huge alligator, which will probably be mostly found in the waterways of the map.
What's special about Rotjaw is that it's the first boss from the "Wild Target" category. This means that the creature is not bound to one place like all other bosses, but moves around the map.
Footsteps and the alligator traps already available in the game will probably act as clues to determine the armored lizard's whereabouts on the map.
It's likely that these clues will be used to narrow down a rough area where the boss can be found.
New weather conditions in the game?
It's noticeable that it seems to rain in pretty much every teaser. In particular, the boss trailer takes place in a thunderstorm where it's pouring down rain.
So it almost seems like rain will also find its way into the game as a new weather condition.
In earlier statements, the developers from Crytek had always rejected the wish for snow and rain in the Bayou, because this would currently be difficult to implement with the engine.
This might have changed now – much to the delight of the community.
Upcoming Summer Event: Tide of Shadows
Both – the gator and the rain – will probably find their way into the game with the announced summer event for Hunt: Showdown. This is called Tide of Shadows and will thematically revolve around the arrival of Rotjaw in the bayou.
According to the short trailer video, this should also be related to the heavy rain in the region.
More information about the event will be available in an already announced developer livestream, which will take place soon.
Until then, players can try out the new content of update 1.13, which has been available on the test servers since today.
We have summarized the contents of the update in an article.