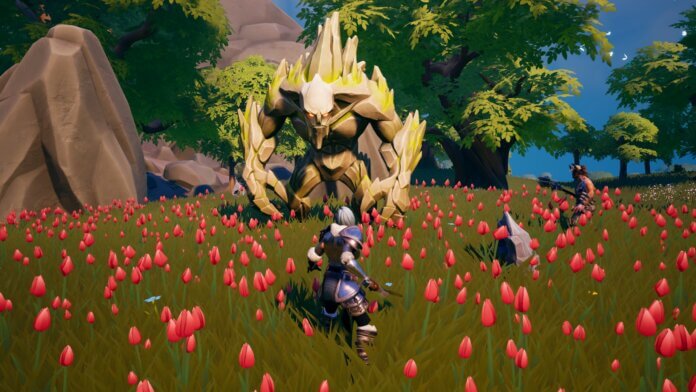 We can expect the launch of a new survival RPG in November, which doesn't throw the player into a post-apocalypse or the remains of a former world, but scores with rich colors – Frozen Flame!
What is Frozen Flame about?
Frozen Flame is set in a colorful, vivid fantasy world where you'll have to fight against giant golems, dragons and other mystical monsters. Apart from fighting these monsters, you'll also have to deal with different weather effects that will affect your characters and also your base, depending on where you build it.
The large, colorful world is procedurally generated and offers a lot of different resources with which you can create your base and equipment.
In addition, an extensive crafting system and modular basebuilding await you, and various ruins and dungeons want to be explored.
Of course, you'll also have to defeat the monsters mentioned above and make sure that they don't destroy you or your base, as the giant stone boss in the Gameplay Features trailer shows.
The gameplay can take place in co-op as well as in a PvP setting, depending on how the server operators set their settings.
Early Access launch & developers' plans
The Early Access launch date for the game is November 17, 2022 on Steam, which is this week.
According to developer Dreamside Interactive, Frozen Flame will spend about a year in Early Access. During this time, more biomes, new monsters and the "possibility to defeat the final boss and complete the game's story" are planned.
The trailer inevitably reminds us of the surprise hit Valheim, which popularized a similar mix recently.
The first demo at Steam Next Fest already managed to make a very good impression.