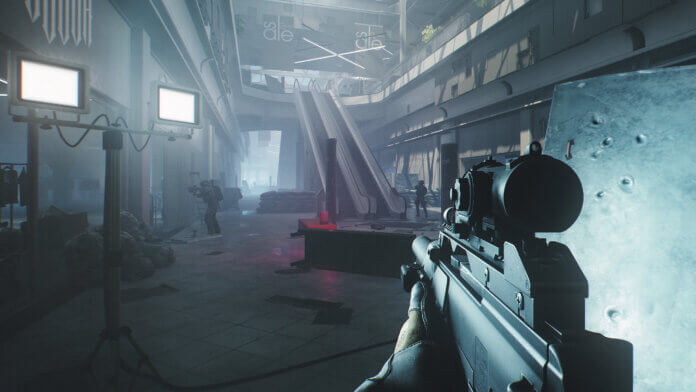 The hardcore survival shooter Escape from Tarkov has received an extensive new update that, among other things, revises the game's group system and addresses some serious bugs.
The most important in a nutshell
Improved Group system
The group system in Escape from Tarkov has always been a bit bulky and cumbersome, but now that has finally changed. Using a group menu next to the button for your hideout, you can now simply invite your friends there.
The group leader then selects the map and time and every other player can continue to prepare and then only has to confirm.
In addition, these groups now remain after a round and you can simply start the next round together again when all members are ready.
Gone are the days of reloading the teammate search and the constant inviting – a definite plus.
By the way, these improvements are also transferable to the co-op practice mode.
Correct skill quest rewards
In the past, players have noticed that the skill rewards for certain quests were not calculated correctly. A fix has now been applied to this so that you should now receive the correct number of bonus points displayed on the skill quests.
Fixes
Escape from Tarkov has been struggling with the invisible player bug and the faulty sound system for some time now, but the latest patch should remedy this.
So many factors that led to invisible players and scav AI's are said to have been fixed, reports of the problem have been very limited since the patch.
There were also some adjustments to the new Oculus sound system, which led to both increased memory usage but also incorrect sound output. However, it was clearly communicated that these are improvements and not a final fix for the problem.
Escape from Tarkov – Patch 0.13.0.3 Patchnotes
Updates
Reworked the player group system. The new system allows to gather your friends in a group in main menu, being able to use your stash or Hideout while the group leader sets up the raid:

Group members no longer need to select the raid location, game mode, and time of day. All settings are handled by the Group Leader
After the group leader sets up the raid, all group members receive a raid invite
You can cancel the invite if you aren't ready yet.

In Co-op practice mode you can gather up to 20 people in the group, depending on the location.

After a raid, the group will stay with the same participants that were in it. Only exception is the Co-op practice mode with more than 5 participants, in this case only the first 5 members stay in the group.

Changed the quest reward skill calculation. Players will always receive skill levels in the amount specified in the quest.
List of fixes
Fixed an issue that caused invisible players and bots in raids
Fixed the incorrect operation of some Oculus Audio components that led to incorrect sound positioning, memory leaks, and reduced performance. This is not the final version of the fixes. Work on improving the sound system and adjusting the positioning of sounds on locations will continue in future updates
Adjusted the geometrical sound positioning system on The Lab location
Fixed an issue that caused the character's hands to freeze when using medicine and other consumable items
Adjusted and optimized the visuals of light sources on Streets of Tarkov location
Fixed the AI behavior issue of Zryachiy and his guards that led to them not attacking hostile players at short distances
Fixed the visual clipping of specific chest rigs while using Glock pistols
Fixed the incorrect icons for specific weapon attachments and ammo
Fixed the incorrect animation of wrist watches on BEAR character models
Fixed the possibility of group members spawning in different spawn points in an online mode after playing in Co-op mode
Fixed the possibility of Zryachiy still attacking players even with an activated transmitter in some cases
Fixed the issue that led to Fence reputation loss for killing Zryachiy and his guards as a Scav
Fixed the possibility of killing bots without them returning fire while leaning and shooting from narrow openings or hard to see covers
Fixed interface elements overlapping when repeatedly switching between the character selection and lobby screens
Fixed the issue that led to Error 228 while using the gym in the Hideout
Fixed the incorrect airdrop positions on specific locations
Fixed the issues that led to hand freezes while using underbarrel grenade launchers
Adjusted the Shooting Range gunshot sounds to match the indoor firing sounds
Fixed incorrect behavior of the currency selection UI in the Flea Market when switching to other screens
Fixed the visual artifacts while using NVGs with FSR 2.1 enabled
Fixed the order of chambers in the RSh-12 revolver drum
Fixed an issue that led to hammer cocking animation playing on dry fire after switching from single action to double action on RSh-12 and Chiappa Rhino revolvers
Fixed the missing ergonomics penalty effect of some equipment