After the final update from the Age of Sorcery series was recently released for Conan Exiles, the developers have now announced what's next for the survival title in the Conan the Barbarian universe.
Funcom will stick to the multi-part update concept and has announced Age of War. The content will revolve around the invasion of the Stygians into the Land of the Damned.
What to expect in Age of War
As in Age of Sorcery, Age of War will be released in three chapters.
A roadmap that was also published already reveals what we can expect.
In the first chapter, the invasion by the Stygians will be introduced story-wise. In addition, clan hoards and emblems will come into play.
But Funcom also wants to work on the combat and weapon system and make some changes and improvements.
Chapter 1 of Age of War is scheduled for release on June 22, 2023.
The second chapter will deal with an overhaul of the Purge system in terms of content, and the third chapter is currently awarded with PvE sieges as its main feature.
Each chapter will additionally include a Battle Pass, new store content and also free additional content.
However, the list of the roadmap is by no means final and currently only a rough planning.
It is quite possible that some content will be added to the individual chapters.
More information about the new content will be available in the coming weeks.
We will of course keep you up to date on everything!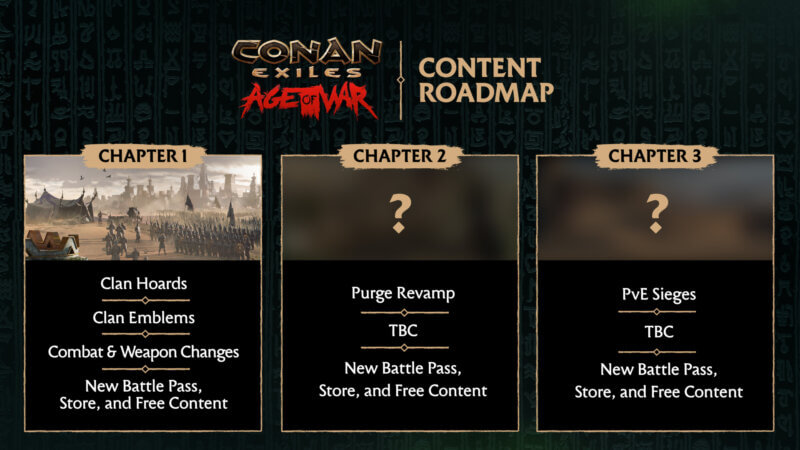 Beta test available on Steam
If you want, you can already help test the new version starting today, May 23. All you have to do is own Conan Exiles and download the "Conan Exiles – Public Beta Client" from your library.