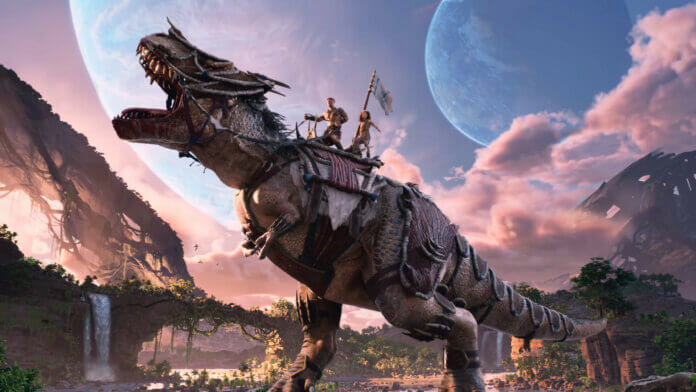 A new trailer for ARK 2 not only reveals the release date for the sequel to the survival sandbox hit, but also gives us a first glimpse of the title's story.
New Cinematic Trailer with Vin Diesel
During the Xbox & Bethesda Games Showcase 2022, the new cinematic trailer for ARK 2 was presented. In it, we once again see Vin Diesel in his role as Santiago and Auli'i Cravalho as Meeka riding on the back of a giant T-Rex.
In addition, we also get to see two popular animals from the first hour of ARK: Survival Evolved in the trailer, the dodo and the raptors, which will also be part of the game in ARK 2.
In particular, the beginning of the trailer, in which a dodo plays around with the implant of a skeleton, and the dialogue of Meeka give an idea of the story and time in which ARK 2 is set.
According to this, it is – unsurprisingly – set after ARK: Survival Evolved and the events at the end of Genesis Part 2 and on the planet Arat.
For all fans of the franchise – no matter if Lore-affine or not – there should be one piece of information in the trailer, namely a targeted release in 2023.
The title was announced as a "console exclusive launch" on the Xbox, but we can probably also expect a simultaneous release for the PC.